FolderSizes disk space analyzer offers a powerful built-in search tool that can find specific file and folder instances based upon a broad range of criteria - including size. FolderSizes search can easily be used to find and remove empty folders.
Using FolderSizes to

Search for Empty Directories

Here's a quick overview of the steps required to find empty folders using FolderSizes 8 (or later).
Click the Search button in the application ribbon bar. The FolderSizes Search window will appear.
Add one or more paths to the Search Paths tab by using the New Path button.
Click the Search Rules tab, click the New Rule button and select New Folder Rule from the pop-up menu. The Rule Editor window will appear.
Click the Item Count tab in the Rule Editor window, and set the file and folder counts to be "equal to" 0 (zero).
Click OK to save the rule and click the Start toolbar button to begin the empty directory search.
Once you've got a listing of the zero-length file system objects, you can select the ones you don't need and click the Delete toolbar button to remove them.
An Update for
FolderSizes 9
While the above instructions still work perfectly when running FolderSizes v9.0 or later, we've added a search tool shortcut to the FolderSizes 9 main window ribbon bar. Selecting this option (see screenshot below) will immediately launch a search for empty folders for the current file system location (if present, otherwise the OS drive is scanned).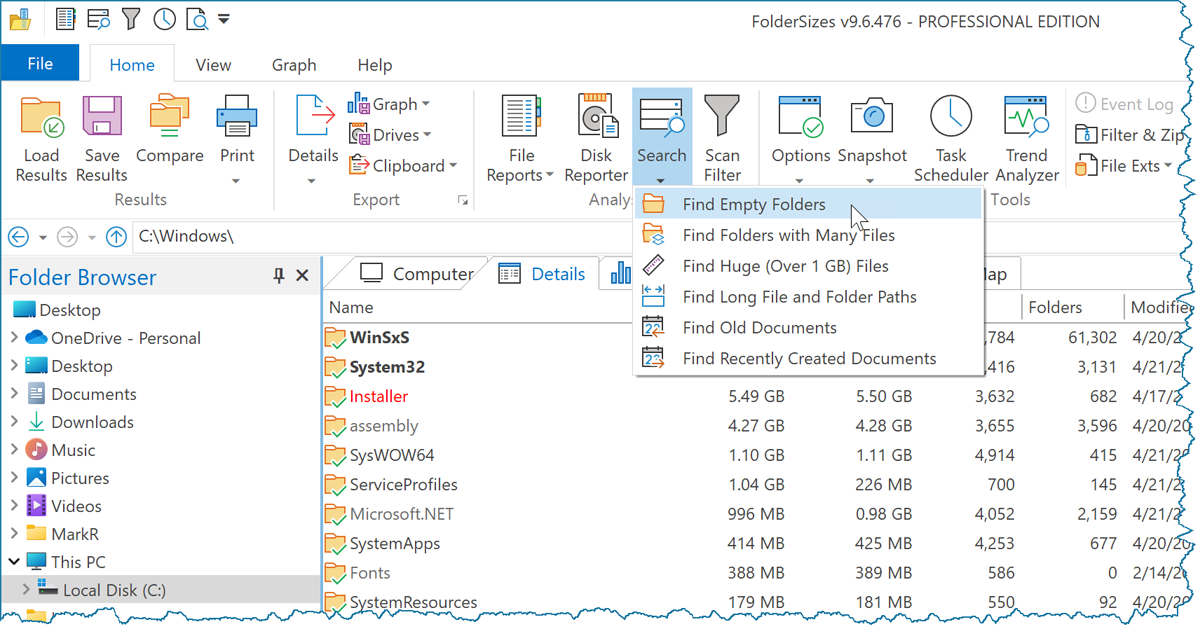 Important: Never assume that a directory is safe to delete simply because it is empty. Make sure you understand the potential impact before modifying any part of your computer or network file system(s).
This tutorial just scratches the surface of what FolderSizes can do. Download the free trial today and see for yourself.