FolderSizes has been improving relentlessly since its initial release in 2003. Years of experience serving the needs of tens of thousands of customers around the world have led us to the release of FolderSizes 8, our most impressive release yet. Over a year in the making, FolderSizes 8 improves upon nearly every aspect of the product's vast feature set.
Certified for Windows 10
FolderSizes 8 is certified as being Windows 10 compatible, and has passed all formal Windows 10 Compatibility tests published by Microsoft. Additionally, FolderSizes 8 continues to provide first-class support for Windows operating systems all the way back to Windows XP and Windows Server 2003 (and everything in between). No other disk space analysis software tool matches the broad level of Windows OS support that FolderSizes 8 provides.
Performance
For its version 8 release, FolderSizes has received a number of important performance upgrades, including:
Folder report – Folder report analyses now uses an entirely new threading model that is much faster in many scenarios.
File report – Like the folder report, the file reporting engine uses a new threading model that dramatically affects many scenarios.
Snapshot creation – Performance during snapshot file creation has been improved by roughly 30% on our tests.
Trend analysis – The trend analyzer will now read multiple file system data files in parallel, improving data import performance.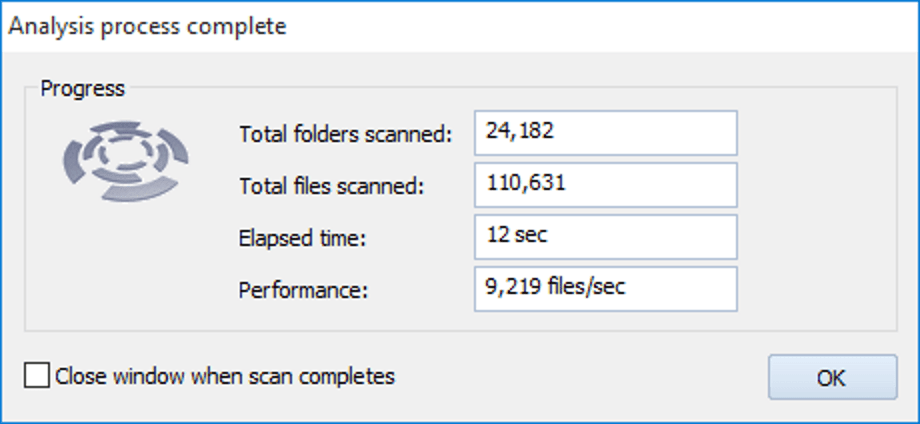 All of the performance enhancements listed above are more pronounced when dealing with remote/network file systems. In the case of folder and file reports, we have routinely measured reductions in time-to-completion of more than 300%. Your test results will likely vary depending a number of factors that include hardware locality, processor availability, network speed, I/O contention, etc.
New Application Themes
Application themes have been completely overhauled in FolderSizes 8, providing a more modern look and feel. Light and dark themes are available with blue, red, green, or orange accents.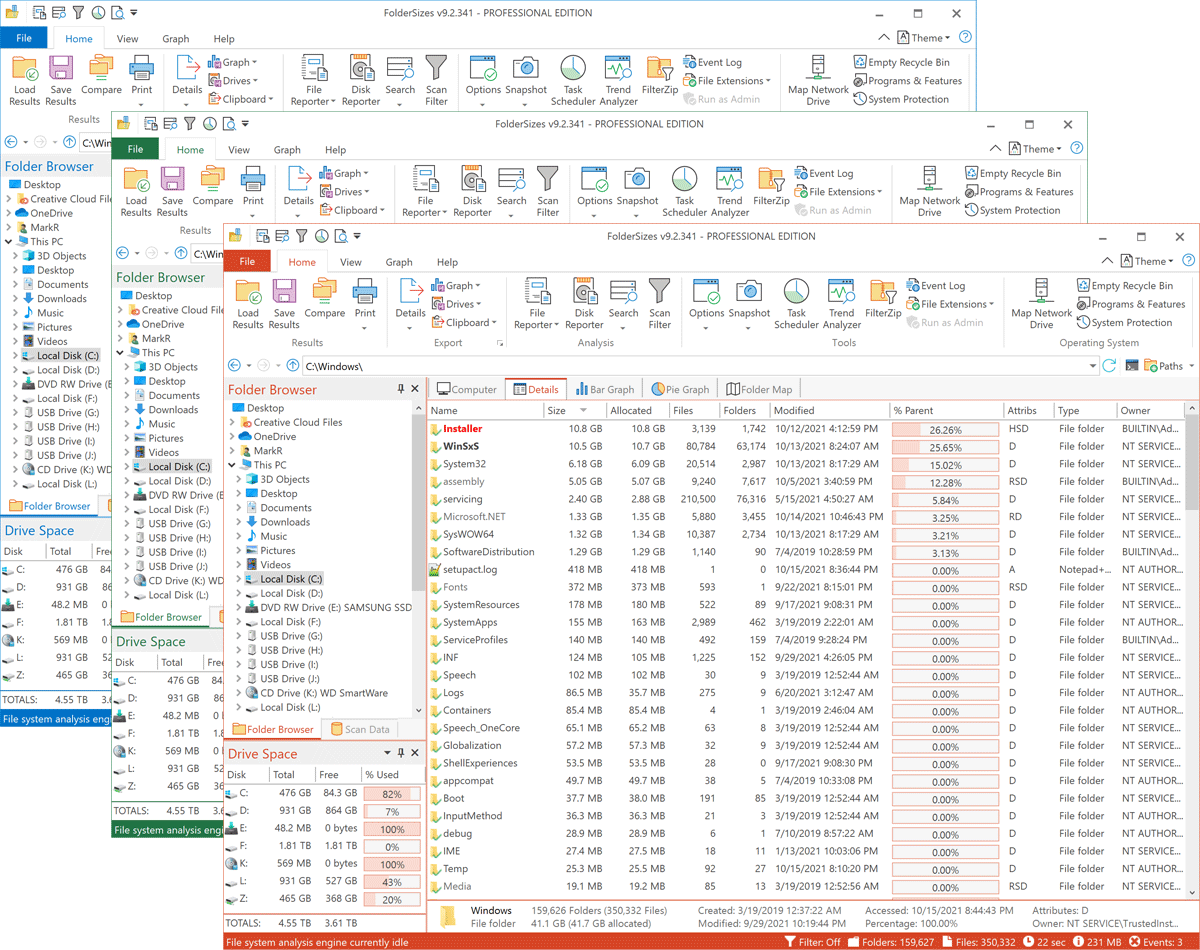 Search Tool
The FolderSizes Search tool can help answer a broad range of important questions relating to your file systems and storage devices. In FolderSizes 8, we have simplified the Search tool and added a range of useful new features.
Search results can now be selected and then moved, copied, deleted, or zipped.
You can now search for folders based upon the number of files and/or subfolders they contain. This criterion can be based upon the immediate file/folder count, or the aggregate file/folder count (which includes counts from nested subfolders).
You can now search for folders based upon their calculated date/time values.
Search results are presented using a new list view control with superior column customization, faster sorting, enhanced tooltips, and better theme support.
New columns have been added for immediate file and subfolder counts, as well as calculated date/time (modified, created, and accessed) values.
A number of new search examples were added to demonstrate the broad potential application of the tool.
Command line interface now includes a means of overriding search job paths for improved integration potential.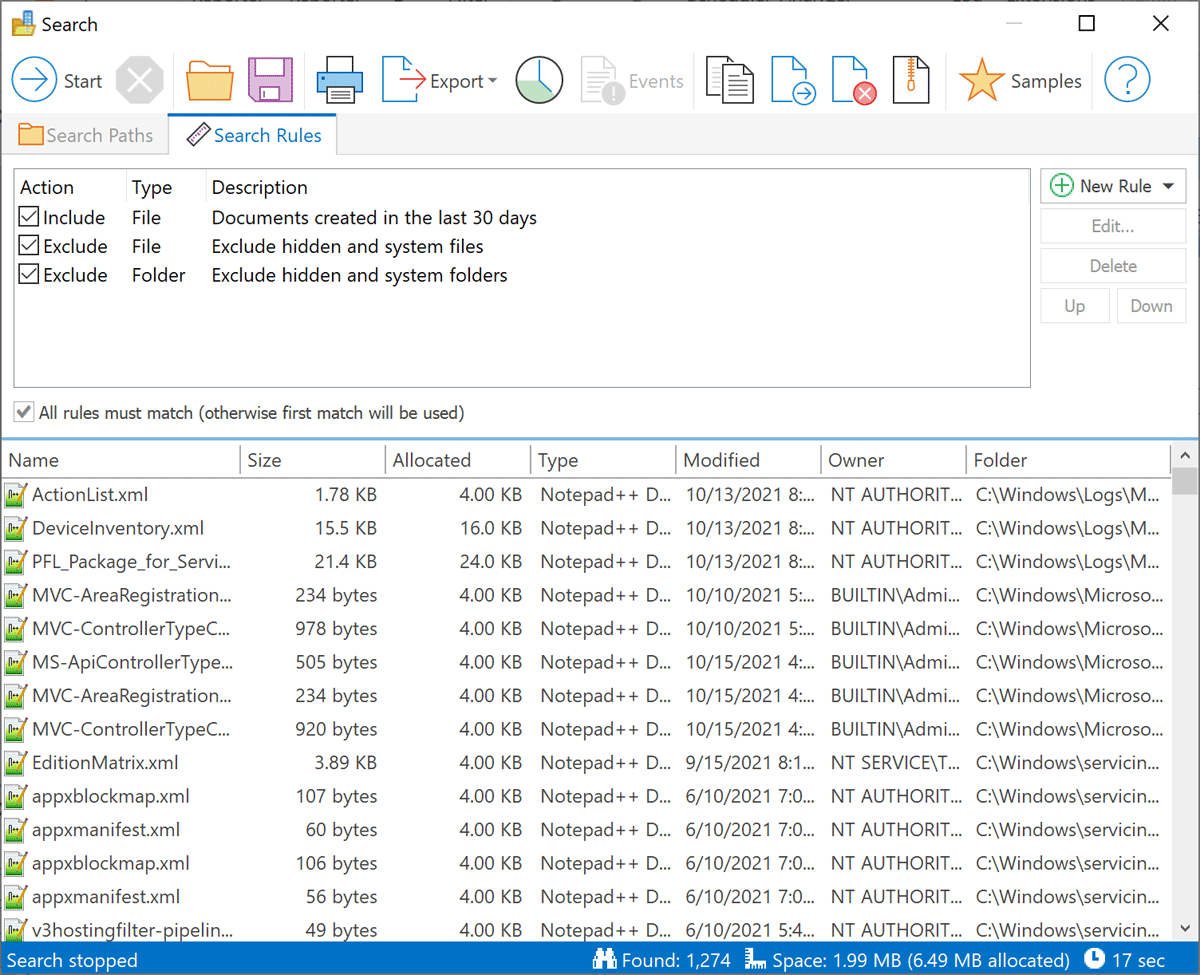 Folder Report Visualizations
Folder reports generated in the main window have improved data visualizations.
Bar graph – Improved layout with right-aligned labels (by default), an option to widen the label widths, and increased rendering performance.
Pie graph – Now provides automatic label truncation to avoid shrinking the pie excessively in the presence of long file and folder names.
Folder map – Offers new support for colorizing adjacent top-level blocks, which can often help users distinguish between the largest file system branches.
Allocated sizes – All folder size visualizations have improved rendering when the option to display file system objects by allocated size is engaged.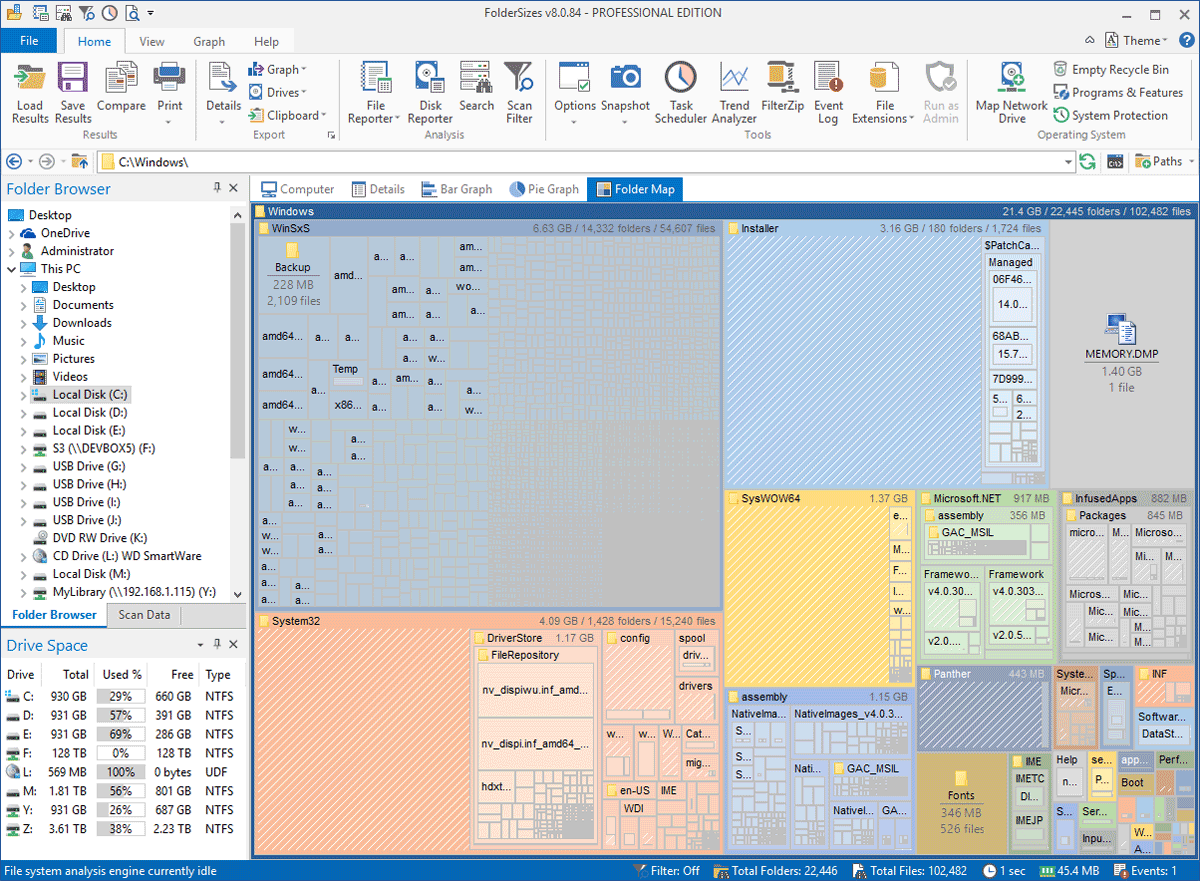 File Reporter
The FolderSizes File Reporter is the most powerful tool of its type available. As such, we have given it considerable attention for the v8 release, implementing a wide range of enhancements:
File system analysis performance has been enhanced considerably, especially when file owner lookup is engaged.
Many file report detail view contents can now be selected and then moved, copied, deleted, or zipped.
The overall layout and navigation of the File Reporter window has been simplified. Reports that contain multiple views (such as detail and graph views) use tabs to switch between them.
All file reports now use a new detail list control with superior column customization, faster sorting, enhanced tooltips, and better theme support.
The Duplicate File report has been completely re-designed so that master-detail navigation is no longer required. Duplicates are now displayed in logical groups with improved sorting (including multi-column sort) support.
Duplicate file report export to Excel now includes size and allocated size expressed in raw bytes.
Duplicate File Report now supports printing directly from within FolderSizes.
Duplicate File Report now includes options for ignoring numeric and/or symbolic characters when comparing file names.
Exporting duplicate file report to MS Excel now includes a "flat" (non-grouped) render in an adjacent worksheet.
Largest, oldest, newest, temporary, and duplicate file reports now expose attribute, depth, and file type columns (hidden by default).
Temporary file report default file matching mask has been extended to include partial downloads, .temp files, and more.
File report owner lookup options were consolidated into a single, master lookup switch.
Largest Files banding graph now shows file names when space is available; report item indices are no longer used.
File Dates report can now switch between showing modified, created, and accessed date/time stamps without needing a rescan.
File Names report can now switch between showing file name and full path lengths without needing a rescan.
File Sizes report can now switch between showing file sizes or allocated sizes without needing a rescan.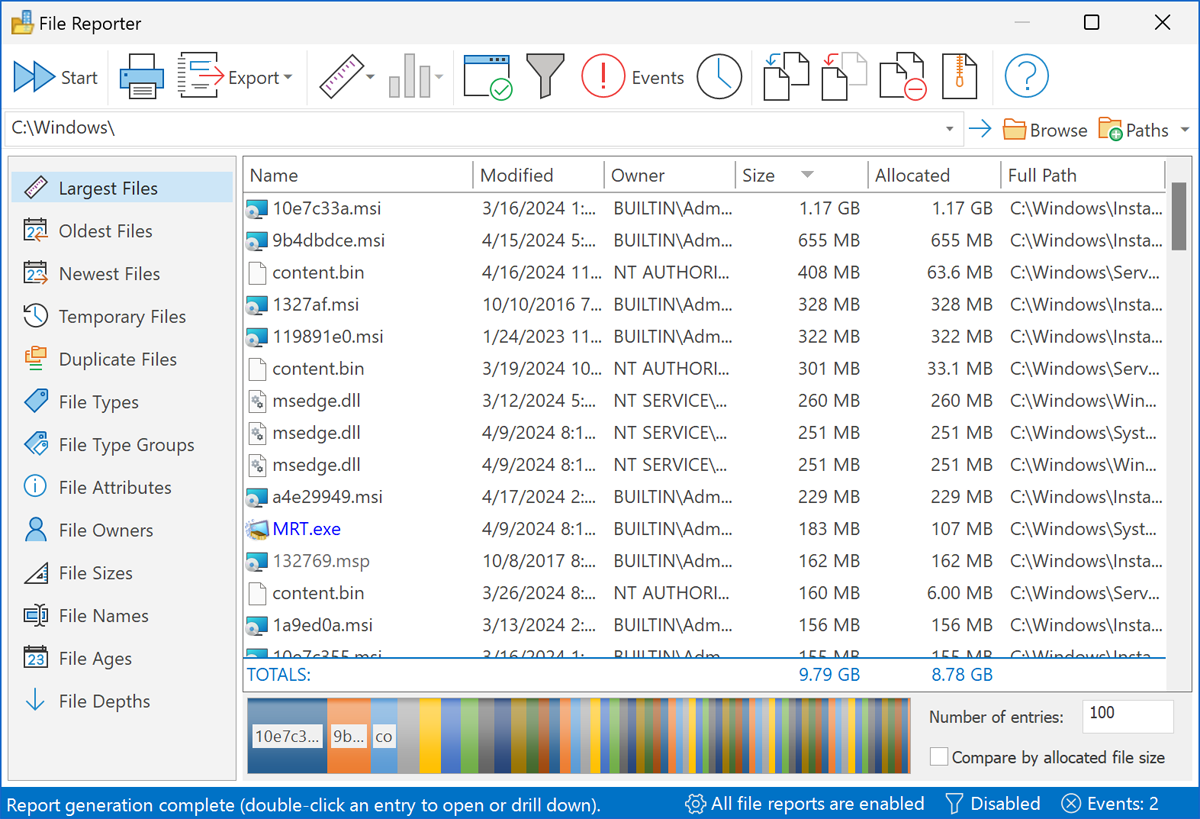 Trend Analyzer
The FolderSizes Trend Analyzer is uniquely powerful, allowing users to load previously exported file system data and visualize the growth and contraction of those file systems over time. New features and enhancements include:
Trend analyzer graphs now have titles, making them easier to identify when exported as image files.
Trend analyzer subfolder change report now exposes starting and ending file/folder counts (folder count columns are hidden by default).
Trend analyzer now allows users to view files/folders associated with any snapshot/directory combination (when using snapshot files as a data source).
Trend analyzer subfolder change report now allows display of starting/ending snapshot files/folders (when using snapshot files as a data source).
Trend analyzer is no longer limited to a single instance across multiple FolderSizes processes.
Trend analyzer detail reports can now be exported in XML and PDF file formats (in addition to existing format options).
Trend analyzer report exports now match on-screen report layout when exporting to file formats intended for human consumption (HTML, PDF, etc.).
When creating a new trend analysis, users can now constrain the scope of the data import to a specific number of days.
Disk Reporter
Performance of the underlying disk history data store has nearly doubled.
Disk reporter now includes a history graph that shows trend lines for all volumes included in the report.
Disk history view now includes the drive label in the graph content.
When scheduling a disk report with the task scheduler, you can now elect to export the disk history graph as an image.
Disk report exports are now more consistent across file types and expose normal, percentage, and byte values in separate columns.
Historical reports now show absolute changes in used space (in addition to existing percentage change indicator).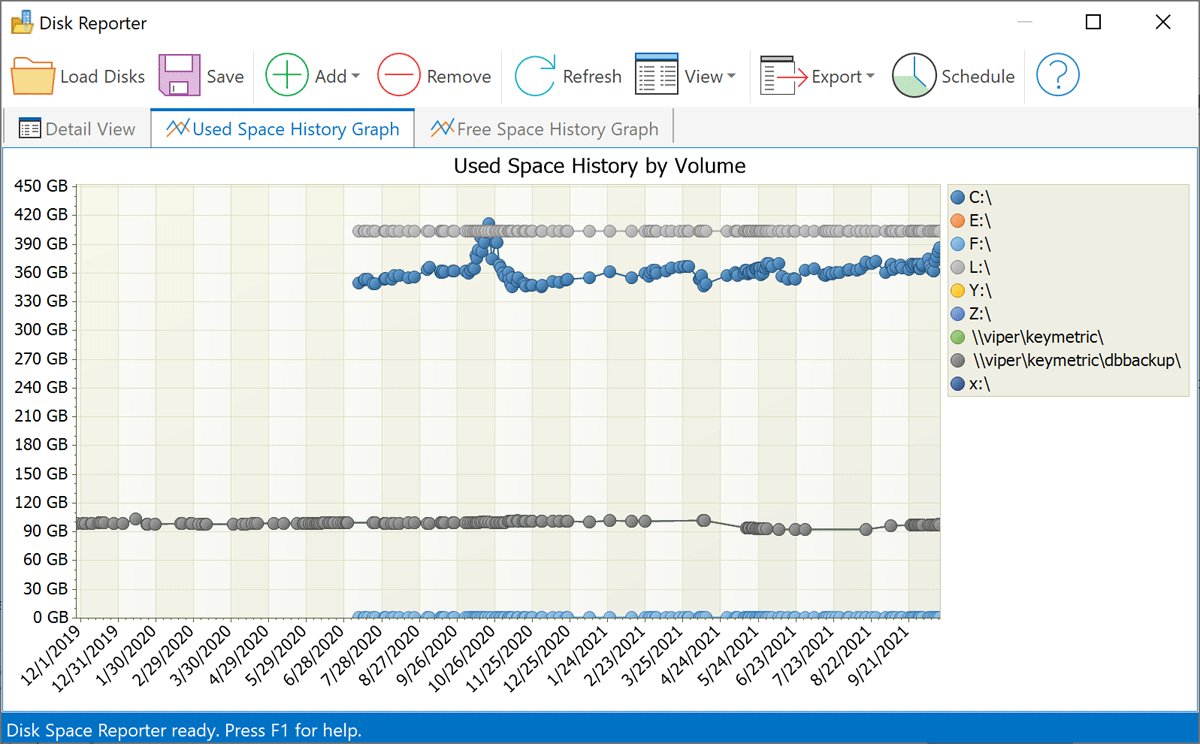 Additional Improvements
The FolderSizes installer now allows users to choose whether they wish to install the Windows shell context menu extension (or remove it later).
You can now enter environment variables (e.g. "%TMP%") in place of scan paths anywhere that manual path entry is permitted.
All FolderSizes detail reports now support multi-column sorting. To use this feature, hold the shift key on the keyboard while clicking multiple column headers (in sequence).
My Computer view now displays actual drive icons, extracted from the Windows shell.
Folder reports, file reports, and snapshot generation now show a "files per second" performance metric during file system scans.
Improved shell icon extraction and caching mechanisms make for smoother, faster report displays.
Added an environmental variable path chooser tool that is accessible from all path management locations.
When exporting data to XML, date/time values are now represented in standards-compliant ISO 8601 format (UTC).
Folder report export includes additional size-in-bytes values when exporting to Excel, CSV, and XML.
Windows shell Libraries can now be selected in the Folder Browser docking panel, which will cause FolderSizes to analyze all associated physical paths.
Any report export that exposes a "size (bytes)" column now also exposes an "allocated (bytes)" (e.g. size on disk) column.
Scroll position, row selection, and row focus are all now retained between automatic refreshes of the main window folder detail view.
Added a terabyte (TB) file size display option to the File Sizes selector of the main window View tab.
Excel detail report exports now include date and times in the headers (and page number in the footers) during printing.
Improved XML element name normalization when exporting XML data directly from a detail list view.
Folder report "% parent" and "avg. file size" columns now honor the graph view allocated mode switch.
The detail report context menu can now show properties for multiple selected file system objects (rather than just the first one).
The scheduler (and command line) can now automatically purge old report files from the output folder(s) associated with a scheduled task.
Excel export improvements to column auto-sizing logic as well as minor compatibility enhancements.
Folder report visualizations now retain high/low sorting regardless of detail view sorting or active display mode.
Improved sorting of search results to separate folders and folders in a manner similar to the folder report and Windows Explorer.
The Windows shell context menu extension was updated to include the "file depths" report.
The Windows shell context menu extension can now be used against multiple selected folder objects at once.
The File Report range editor dialog now provides min/max value edit controls with embedded calculator buttons.
The disk history database has been re-located to an unversioned file system location so that it isn't lost after major version upgrades.
The performance of some text-based export operations (such as CSV and HTML) have been improved considerably (up to 3x faster).
FilterZip tool now produces zip files with Unicode extension support.
Improved event logging during FilterZip operations and a new button for viewing events (shown in the progress window).
Regular expression support has been extended, and now supports the ECMAScript (JavaScript) expression grammar.
Improved handling and management of tasks (including orphaned tasks) via the integrated task scheduler tool.
Added status bar to scan filtering configuration dialog to help clarify current feature engagement.
Added a minimize button to the general (file report, snapshot, etc.) progress window that minimizes the application.
Computer view tooltips now show volume paths (GUIDs) and also lists any additional mount points for the volume.