The new FolderSizes 8 release extends the abilities of its built-in search tool by allowing you to find folders based upon their contained file or subfolder count.
This new feature makes it easy to answer questions such as:
What folders contain a large number of files (or child folders)?
What folders contain no files (or child folders) at all?
What folders contain between 100 and 200 files (or child folders)?
And many others…
To get started, launch the FolderSizes Search tool and enter your desired search paths. Next, switch to the Search Rules tab, click the New Rule button, and select New Folder Rule. This will show the Folder Rule Editor, which contains an Item Count tab.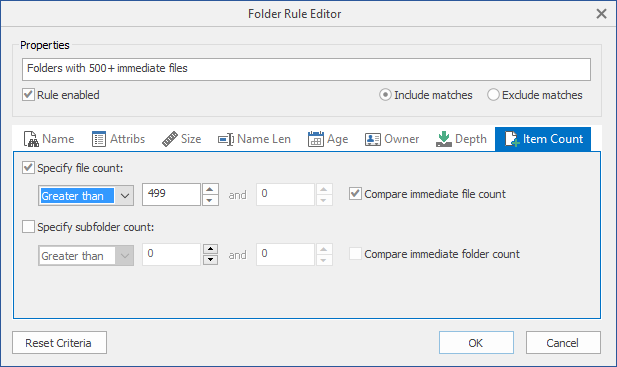 Notice that there are two comparison modes available. When the "compare immediate file count" or "compare immediate folder count" options are used, then only immediate children of the folder will be compared by the search rule. If this option is not engaged, then the comparison will be performed against the full aggregate count of all child files and subfolders.
Once configured, click OK to save the rule and then run the search to view the results. The resulting list of files and/or folders can then be copied, moved, deleted, or archived using the buttons available in the Search window toolbar.
Also please note that FolderSizes 8 ships with a number of Search sample projects, including one that helps you to find folders with a large number of immediate files. Just click the Samples button in the Search window toolbar to see what's available.
posted by Key Metric Software at
5:37 pm