Today I'm happy to announce the public availability of FolderSizes 8 – the new major version of our market-leading disk space analysis and reporting tool for Windows.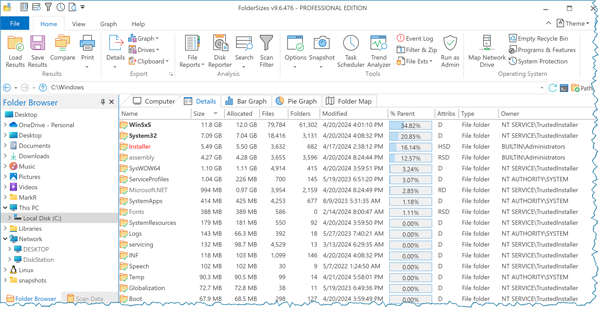 It took over a year of active development and hundreds of testing hours to reach this point, and we couldn't be happier with the result. Nearly every aspect of FolderSizes has been touched by this release, starting with deep improvements to our core file system analysis engine and carrying all the way through to the user interface.
Learn more about what's new in FolderSizes 8 here, or just go right for the download and try it for yourself.
With the release of FolderSizes 8, we've also revealed our new product website. Clean, professional, and mobile device friendly, the new website is designed to help our existing users find what they need quickly while simultaneously showing new users what makes FolderSizes so special.
As always, your feedback regarding FolderSizes 8 is very much appreciated, so don't hesitate to contact us with your thoughts, questions, or comments.
posted by Key Metric Software at
9:21 pm